Hi All,DBIT Blog will start to get active from today! ^_^
So I shall get the ball rolling and start off with a post! :D
1 week ago (18 Sep), I just came back from an Overseas Service Learning Trip or OCIP organised by SP DSD and Asian Journey. It was called the 'Green Desert @ SP Fall 2011' (from 5 Sep - 18 Sep 2011).
So as you can see from the logo, I did my OCIP at Inner Mongolia! It was a really cool and good experience. Inner Mongolia is definitely an eye-opener for me! It was the first time I really experience and understand what is 一望无际! And furthermore, we were 1200++ meters above sea level! :O
Photograph taken at Site of Xanadu (元上都遗址) at Inner Mongolia
So our main goal of this ocip trip was to plant trees and participate in the "building" of the 'Green Great Wall'. There is desertification problem in this part of China (and some other parts as well), and the strong winds there had also caused sandstorm problems, affecting Beijing and even affected neighbouring countries in East Asia.
Da Bao, The site where we planted the trees.
The area of Inner Mongolia that we went was Duolun County (多伦县). To get to Duolun, we actually had to take a 6 hours flight from Singapore to Beijing first, then followed by an 8 hours bus ride before we reach Duolun. During the bus ride, you get to see many beautiful scenery and mountains.
How it looks (to the left) when you step out of the Hotel ~ (at Duolun)
As compared to Singapore, Duolun is relaxed and a slow-paced place. The temperature then when we were there, was quite cooling since we went in September. Temperature was ranging from 5 degree celcius to 23 degree celcius (around there if I'm not wrong). I'm always wrapped in layers when I was there! xD
Window of hotel room in the morning~
In the Hotel, there wasn't any air-conditioning... even with windows closed, it was still very cold in the room!
Digging Holes & Planting Trees
So back to planting...
We first spent a few days digging holes, and after that we planted the saplings. Digging holes were a bit challenging for me, especially the top soil. The top soil is usually bound more tightly because of the roots of the grass. So after getting the top soil out, the rest were usually easier to dig. However, there were some exceptions, especially when we dug near trees or plants. It would definitely be more tough to dig (even the soil after getting the top layer off) when you keep "meeting" roots along the way you're digging. So in total, we planted a total of 1133 trees, which was more than our goal of 1111 trees!
Marking the completion of planting!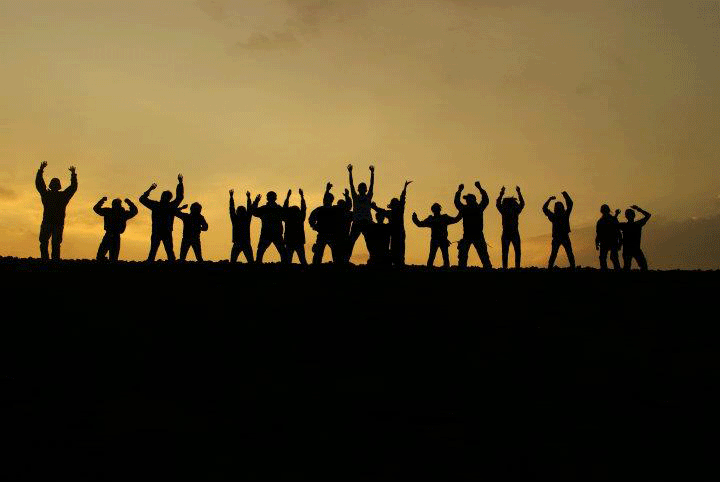 Taken at the train track!
Not forgetting, we also celebrated Mid-Autumn Festival with everyone (which happens to fall on 12 Sep 2011) at Inner Mongolia!
Duolun's Mooncake~!
Besides all the planting, we actually had free time for sight-seeing and shopping. We even get the opportunity to go on Horse Riding!
Me riding brown horse~
Me riding white horse~
After our completion for planting project, we left Duolun(多伦) and headed to LanQi(蓝旗).
Leaving Duolun~
At LanQi, we stayed at the Mongolian Yurt, or Ger (pronounce as G-air or G-are as in Hair or Care), or 蒙古包 for one night. We got to try on the Mongolian Costumes, and it only cost 20 RMB! I think it was really worth the experience, and we all had lots of fun! :D
Group photo of those who tried on the Mongolian costumes ~ :D
Mongolian Ger where we stayed in for a night!
After the stay, we headed back to Beijing with yet another 8 hours of bus ride.
Went straight to climb the Great Wall by the steep way once we reached Beijing!
Ticket to climb Great Wall
At MuTianYu Great Wall (慕田峪长城)
On our second last day of the trip (last day was just flying off), we went to TianAnMen Square (天安门广场) , Forbidden City (故宫) and JingShan Park (景山公园) for sight-seeing.
At TianAnMen Square (天安门广场)
At Forbidden City (故宫)
At JingShan Park (景山公园)
We even get to experience taking the subway in Beijing once, after our sight-seeing, when heading to some other location for shopping. I think it was quite like the MRT in Singapore, but it was different in some ways. Quite a good experience. :)
This trip had taught me many things, it taught me how to appreciate things around me more, and how to be more contented with my life. It was a really good experience, and I never once regretted signing up for this trip. :D Most importantly, I also made many new friends from this trip (friends from all over SP - from DMIT, CLS, SB, EEE, ABE, SMA)! This trip will never be possible (or the same) without our 2 leaders and the 24 other teammates! :D
At Changi Airport after we touched down.
-shihui. (Year 2, EBS option)